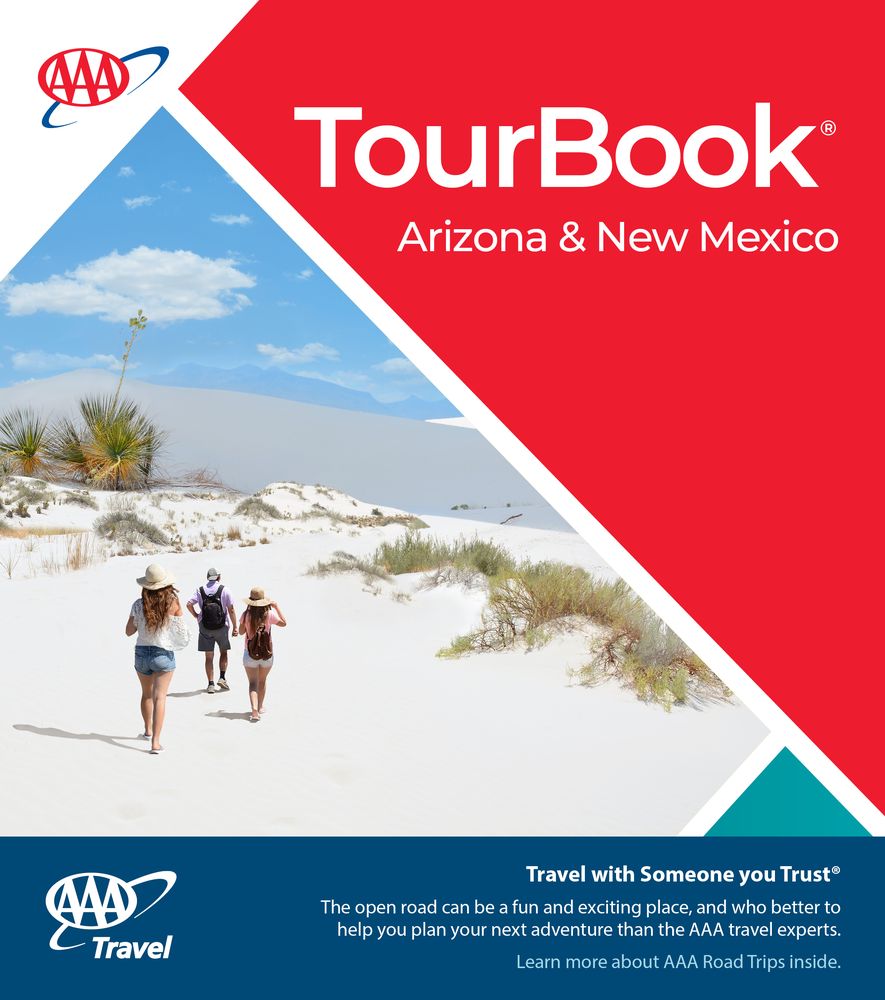 Southwest
Arizona & New Mexico Tourbook Guide
Including Albuquerque, Grand Canyon National Park, Phoenix, Santa Fe, Sedona and Tucson
Explore the deserts and natural wonders of Arizona and New Mexico with the digital AAA TourBook guide. Find beautiful views at the awe-inspiring Grand Canyon National Park and colorful fossilized trees at Petrified Forest National Park. There are plenty more opportunities to explore the outdoors at Saguaro National Park, which is within the only region where saguaro cacti grow, and at Carlsbad Caverns, believed to be the deepest limestone caverns in the United States.
With the Arizona & New Mexico guide, you'll get advice from AAA travel experts about the best things to see and do, where to stay and how to plan the trip of a lifetime. You'll learn insider travel tips and answers to many top questions asked by travelers.
Here's a sampling of things you'll find in the Arizona & New Mexico guide:
What time of year is best to visit the Grand Canyon
What you'll find at the South Rim versus the North Rim in Grand Canyon National Park
Where to camp, hike and fish in state parks and national public lands
How to tour Sedona
When to see the bats fly out of Carlsbad Caverns
Why the Albuquerque International Balloon Fiesta is a bucket-list experience
What activities to do in Grand Canyon National Park
How to arrange a tour of Acoma Pueblo (Sky City)
Where to see Major League Baseball's spring training games
What are some of the must-dos covered in this guide?
We know no two travelers are alike, so we've included a wide variety of things to do in each TourBook guide, from national parks and recreational activities to museums and theme parks.
Explore the great outdoors of Arizona and New Mexico and what activities to do, including taking the Grand Canyon Railway at the South Rim of the Grand Canyon National Park and going on Pink Jeep Tours through the red rocks of Sedona. There is also Petrified Forest National Park and Saguaro National Park, and you won't want to miss the bats' nightly flight out of Carlsbad Caverns. The whole family will enjoy the New Mexico Museum of Natural History and Science, where you'll learn about the dinosaurs that once inhabited the Southwest. Also learn about the culture and history of the area at the New Mexico History Museum and the Museum of Indian Arts & Cultures.
You'll find these attractions and more in this digital destination guide.
Will this guide help me with entry requirements?
Yes! This guide includes inspiration for scenic drives in Arizona and New Mexico. You can also use the high-quality maps to get started planning your own route.
Is national park information included?
Yes. The Arizona & New Mexico TourBook includes detailed information on Grand Canyon National Park (including the South and North rims), Petrified Forest National Park and Saguaro National Park. You will also find information on Carlsbad Caverns National Park, where you can tour the limestone caverns with a park ranger, and the snowy-looking dunes at White Sands National Park.
Other national public lands include Bandelier National Monument, Chaco Culture National Historical Park, Gila Cliff Dwellings National Monument, Pecos National Historical Park and Petroglyph National Monument.