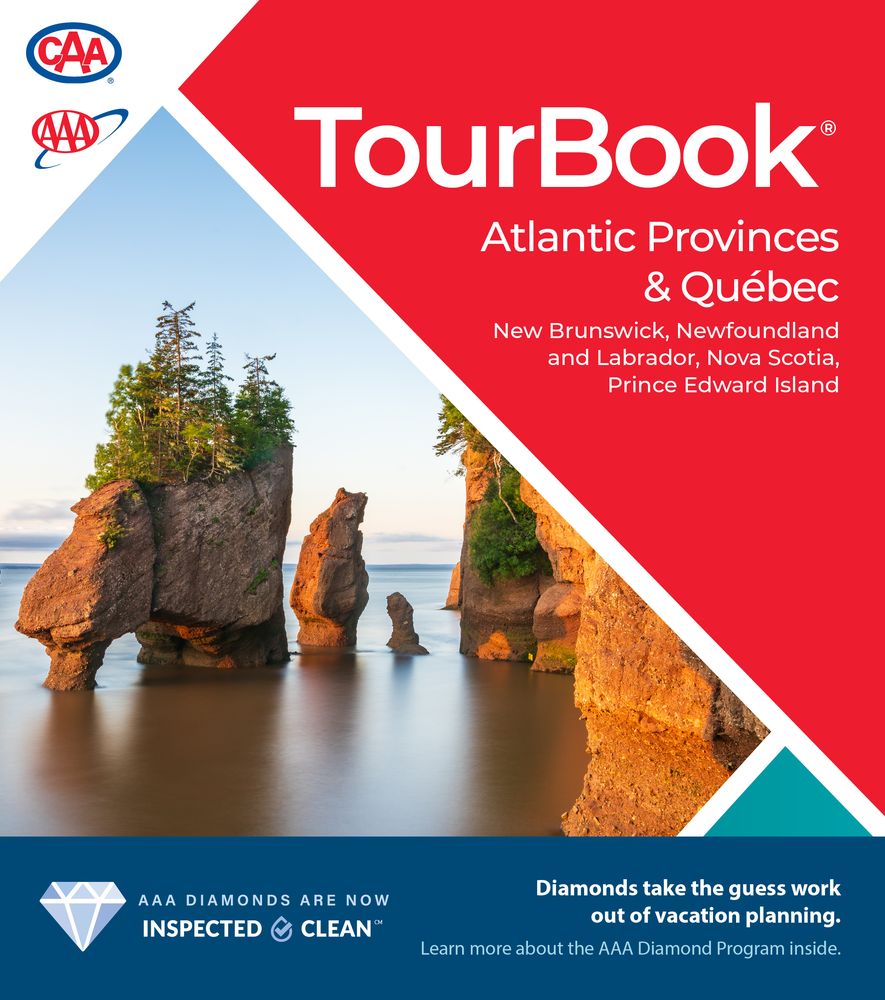 ALASKA AND CANADA
Atlantic Provinces & Quebec Tourbook Guide
Including Montreal, Quebec City and Halifax
Explore coastal scenery and rich history of Canada's Atlantic provinces and Quebec with the AAA TourBook guide. From walking the cobblestone streets of Old Quebec to riding a jet boat through the rapids in Montreal, the five provinces in this region offer a wide range of experiences for every type of traveler. Plan your next trip with the help of AAA's TourBook travel guide, available now on mobile, tablet or desktop.
With the Atlantic Provinces & Quebec guide, you'll get advice from AAA travel experts about the best things to see and do, where to stay and how to plan the trip of a lifetime. You'll learn insider travel tips and answers to many top questions asked by travelers. This guidebook includes information about the top things to do in the Canadian provinces of Nova Scotia, New Brunswick, Newfoundland and Labrador, Prince Edward Island and Quebec, including the cities of Montreal, Halifax and Quebec.
Here's a sampling of what you'll find in the Atlantic Provinces & Quebec TourBook:
Why the Bay of Fundy has some of the highest tides in the world
How to experience "Iceberg Alley" in Newfoundland and Labrador
Which museum in Halifax has Titanic artifacts (and why the city played a major role in the recovery efforts)
How to follow in the footsteps of Vikings at L'Anse aux Meadows National Historic Site
What you shouldn't miss in Old Montreal
Where to find the best spots for whale watching in Maritime Canada
Which lighthouses are worth the climb
Why you should explore Old Quebec on foot
Where to camp, hike and fish in Canada's provincial parks
What are some of the must-dos covered in this guide?
We know no two travelers are alike, so we've included a wide variety of things to do in each TourBook, from national parks and sightseeing tours to botanical gardens and museums.
We cover the top things to do in the Atlantic provinces and Quebec, including Quebec City's Place-Royale, Montreal's Mount Royal Park (Mont-Royal Park) and the Halifax Citadel National Historic Site. See a waterfall higher than Niagara Falls at Montmorency Falls Park (Parc de la Chute-Montmorency) in Quebec City, or visit one of the largest churches in North America at Notre-Dame Basilica of Montreal. Learn about Nova Scotia's seafaring history at the Maritime Museum of the Atlantic, or check out one of the few remaining sand dunes at Irving Eco-Centre, "La Dune de Bouctouche" in New Brunswick.
You'll find all these attractions and more in this destination guide, plus ideas for family-friendly things to do and places to stay.
Will this guide help me plan a road trip?
Yes, this digital TourBook includes inspiration for scenic drives in the Atlantic provinces and Quebec. You can also use the high-quality maps to get started planning your own route.
Is national parkland information included?
The Atlantic Provinces & Quebec tour book includes detailed information and travel tips for popular national parks like Fundy National Park in New Brunswick, Cape Breton Highlands National Park in Nova Scotia and Gros Morne National Park in Newfoundland and Labrador. You'll also find travel information about national historic sites and national park reserves throughout the region.
Explore the Atlantic Provinces & Quebec AAA TourBook and start planning your next travel adventure today!