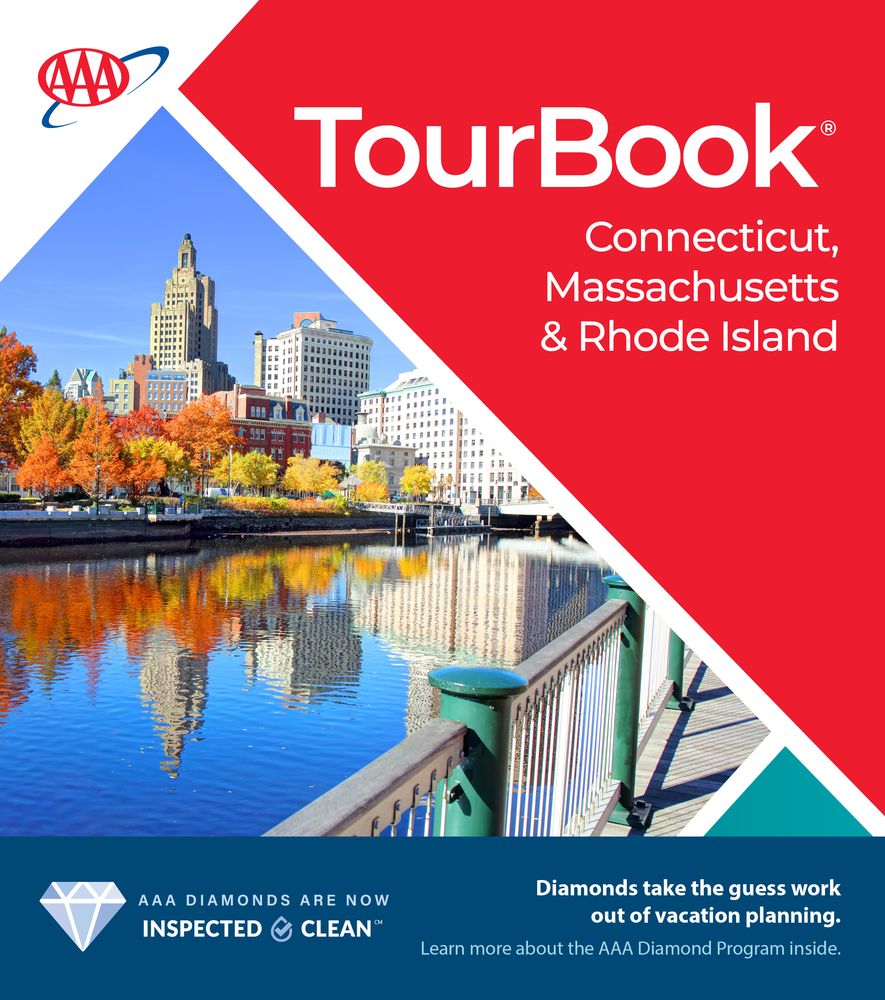 Northeast
Connecticut, Massachusetts & Rhode Island Tourbook Guide
Including Boston, Cape Cod, Hartford, Martha's Vineyard and Providence
Get to know Connecticut, Massachusetts and Rhode Island with the digital AAA TourBook guide. From the picturesque coastal town of Mystic, Connecticut, to the bustling cities of Providence and Boston, the region has something for everyone. Travel to a destination of your choosing with the help of AAA's digital TourBook travel guide, available for mobile, tablet or desktop.
With this trip guide, you'll get advice from AAA travel experts about the best things to see and do, where to stay and how to plan the trip of a lifetime. You'll learn insider travel tips and answers to many top questions asked by travelers.
Here's a sampling of things you'll find in the Connecticut, Massachusetts and Rhode Island guide:
What to do in Martha's Vineyard
Where the oldest college in the United States is
Why Providence was founded
Where the oldest synagogue in America is
How to see Newport mansions
Where to camp, hike and fish in state parks and national public lands 
What the Boston Freedom Trail is
What are some of the must-dos covered in this guide?
We know no two travelers are alike, so we've included a wide variety of things to do in each TourBook guide, from recreational activities to museums and theme parks.
We cover the top outdoor activities in New England, such as hiking Boston Harbor Islands trails or wading or fishing at Connecticut's Rocky Neck State Park in Niantic. Make time to see the homes of some of the best-known American writers, including Harriet Beecher Stowe and Mark Twain. Visit the USS Constitution and other attractions in the Charlestown Navy Yard to learn about early American maritime history. Then visit some popular summertime vacation spots in Massachusetts, such as Cape Cod or Martha's Vineyard.
You'll find all these attractions and more in this digital destination guide. 
Will this guide help me plan a road trip?
Yes, there are scenic drives and road trips throughout Connecticut, Massachusetts and Rhode Island. You also can use the high-quality maps to get started planning your own route.
Is national park information included?
Yes. The Connecticut, Massachusetts and Rhode Island guide includes detailed information and travel tips for Boston African American National Historic Site and Lowell National Historical Park as well as many other national historical sites and monuments.
You'll also find travel information about top public areas such as Boston Harbor Islands National Recreation Area and Cape Cod National Seashore as well as the Appalachian National Scenic Trail.
Explore the Connecticut, Massachusetts and Rhode Island guide, and start planning your next travel adventure today!