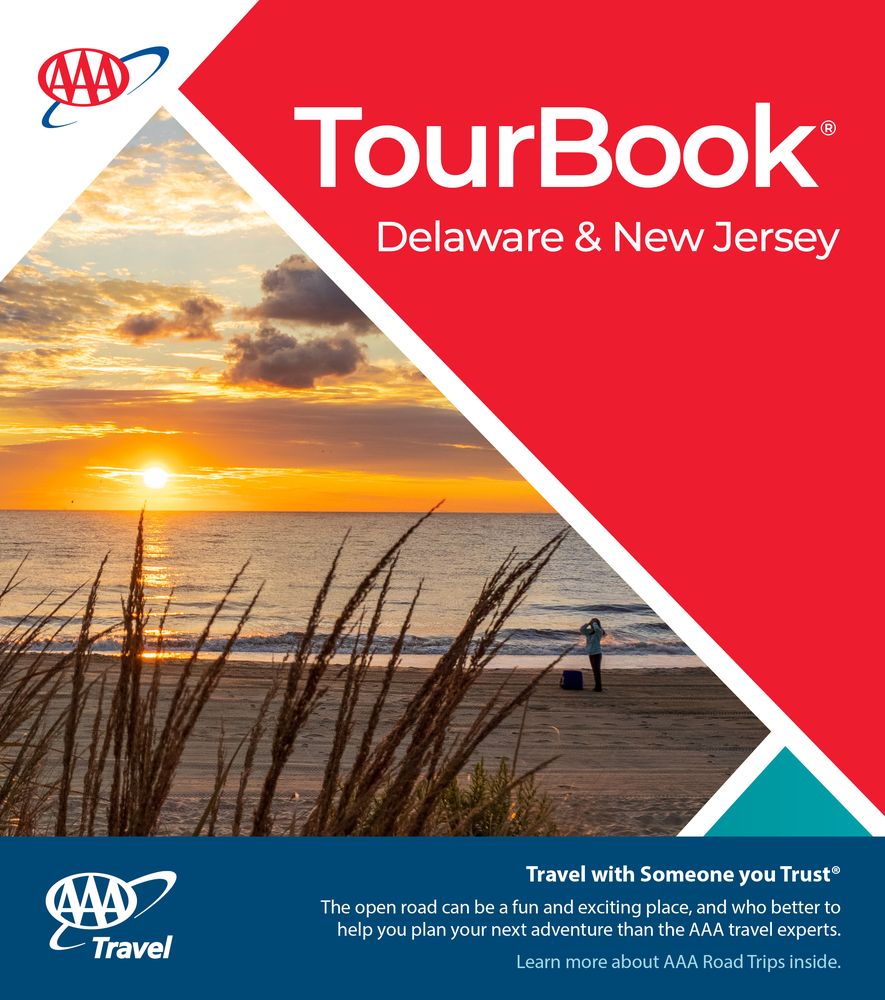 Northeast
Delaware & New Jersey Tourbook Guide
Including Atlantic City, Rehoboth Beach and Wilmington
Find all that Delaware and New Jersey have to offer with the AAA TourBook guide. There are plenty of opportunities to explore the outdoors and the coastlines at Fenwick Island, Ocean City and Wildwood. There are also lots of places to visit that have historical significance, like the Nemours Estate in Wilmington and the Old Barracks Museum in Trenton, used by the army in the Revolutionary War. Plan your next trip using the AAA TourBook travel guide, available now on mobile, tablet or desktop.
With the Delaware & New Jersey guide you'll get advice from AAA travel experts about the best things to see and do, where to stay and how to plan the trip of a lifetime. You'll learn insider travel tips and answers to many top questions asked by travelers.
Here's a sampling of things you'll find in the Delaware & New Jersey guide:
Where to camp, hike and fish in state parks and national public lands
What beaches are fun vacation locales
Where to learn about the Revolutionary War
Why Trenton is a bucket list destination for history buffs
Which Delaware towns have Victorian homes
Which casinos to visit in Atlantic City
What are the best museums to visit
Where to find George Washington's Revolutionary War headquarters
What scenic road trips to take
What are some of the must-dos covered in this guide?
We know no two travelers are alike, so we've included a wide variety of things to do in each TourBook guide, from national parks and recreational activities to museums and theme parks.
We cover top beach spots to visit in Delaware and New Jersey including Delaware Seashore State Park in Rehoboth Beach as well as Atlantic City and the beaches at Ocean City and Wildwood. Take a look back at history by visiting the Laboratory Complex at the Thomas Edison National Historical Park and at the beautiful Nemours Estate, built at the beginning of the 20th century. Enjoy all that Wilmington has to offer including the beautiful scenery in Brandywine Valley, and have fun with the kids at the Delaware Children's Museum.
You'll find all these attractions and more in this digital destination guide.
Will this guide help me plan a road trip?
Yes! This guide includes inspiration for scenic drives in Delaware and New Jersey. You can also use the high-quality maps to get started planning your own route.
Is national parkland information included?
Yes! The Delaware and New Jersey TourBook guide includes detailed information on Morristown National Historical Park and Thomas Edison National Historical Park.
You'll also find a handy chart which includes information on public lands including Brandywine Creek, Cape May Point, Delaware Seashore, Fenwick Island, and Stephens state parks, as well as Liberty State Park in New Jersey, which faces the Statue of Liberty.