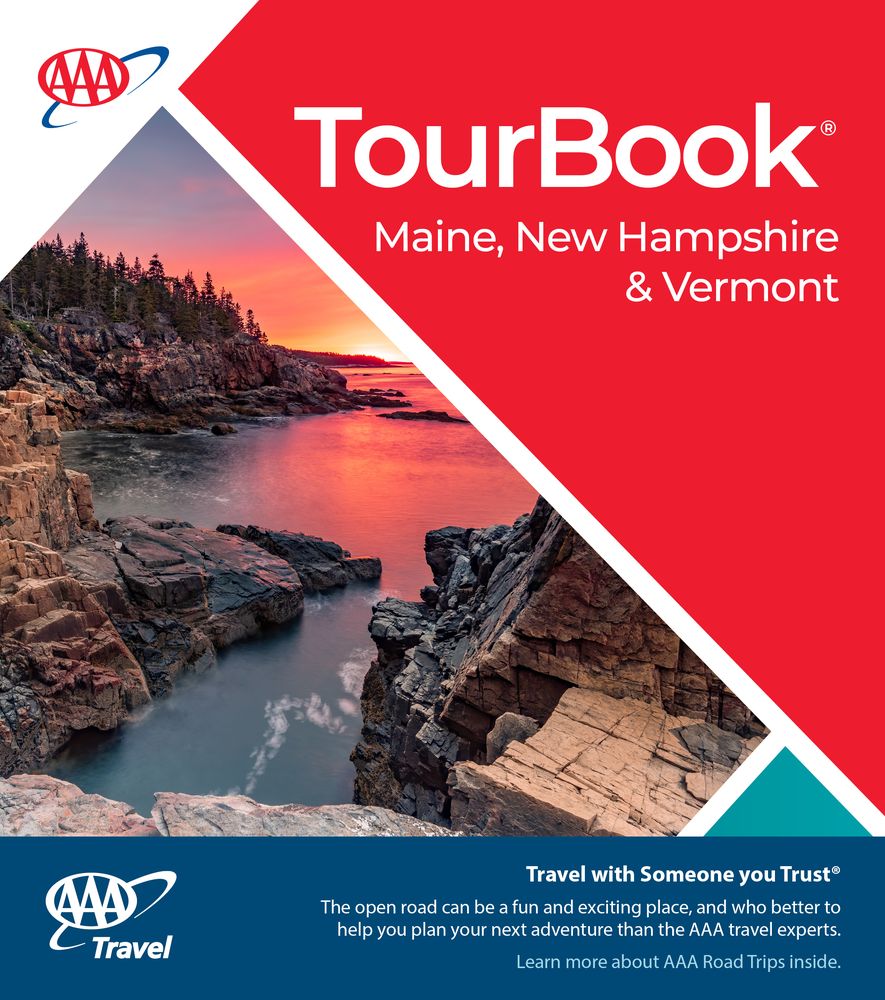 Northeast
Maine, New Hampshire & Vermont Tourbook Guide
Including Portland, Maine, and Acadia National Park
Explore the natural beauty and history of New England with the Maine, New Hampshire & Vermont digital AAA TourBook guide. With scenic coastlines, verdant valleys and towering mountains, this region offers endless opportunities for outdoor adventures. Art lovers and history buffs will find much to see in the area's many museums and historic attractions. Plan your next trip with AAA's digital TourBook travel guide, available on mobile, tablet or desktop.
With the help of the Maine, New Hampshire & Vermont guide, you'll get advice from AAA travel experts about the best things to see and do, where to stay and how to plan the trip of a lifetime. You'll learn insider travel tips and answers to many top questions asked by travelers.
Here are examples of things you'll find in the Maine, New Hampshire & Vermont guide:
Why the Flume Gorge is worth a visit
What to see in Acadia National Park
How to get to scenic overlooks offering views of four states
Why skiing at Maine's Camden Snow Bowl is a bucket list experience
Where you can see a 500-foot-long, hand-carved miniature circus parade
How to experience a whale-watching cruise
Where to camp, hike and fish in state parks and national public lands
Why Maine was a magnet for poets, artists and authors
How to safely explore the Lost River Gorge & Boulder Caves
What are some of the must-dos covered in this guide?
We know no two travelers are alike, so we've included a wide variety of things to do in each TourBook guide, from national parks and recreational activities to museums and theme parks.
We cover the top outdoor spots in Maine, New Hampshire and Vermont, including Acadia National Park and Green Mountain and White Mountain national forests. Learn about local history at the Maine State Museum, the Enfield Shaker Museum or the Bennington Museum. Go behind-the-scenes on a dairy farm at Billings Farm & Museum, or see how cheese and maple sugar are made at Sugarbush Farm. Get up-close with wildlife on a whale- and seal-watching cruise, or stroll amid stunning displays of native plants at the Coastal Maine Botanical Garden.
You'll find these attractions and more in this digital destination guide.
Will this guide help me plan a road trip?
Yes! This guide includes inspiration for scenic drives in Maine, New Hampshire and Vermont. You can also use the high-quality maps to get started planning your own route.
Is national parkland information included?
Yes. The Maine, New Hampshire & Vermont TourBook guide includes detailed information and travel tips for Acadia National Park.
Explore the Maine, New Hampshire & Vermont TourBook guide and start planning your next travel adventure today!