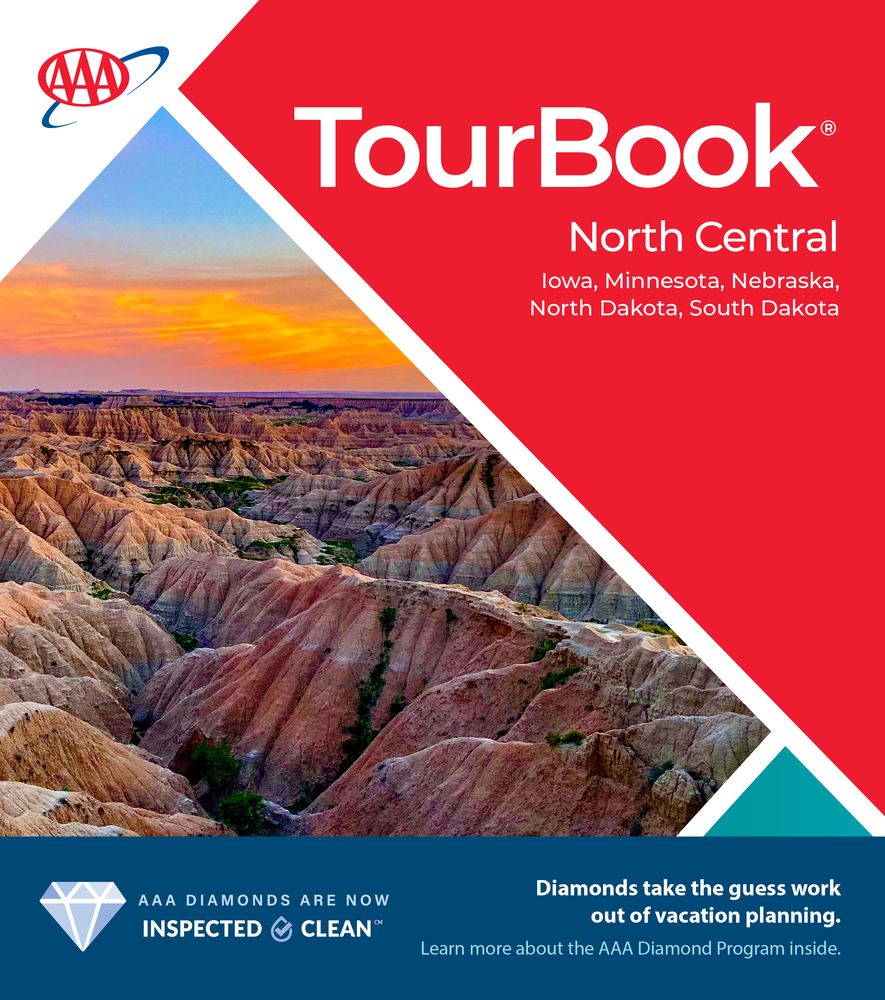 MIDWEST
North Central Tourbook Guide
Including Iowa, Minnesota, Nebraska, North Dakota, South Dakota and the city of Minneapolis-St. Paul
Explore the rich history and unique geography of the North Central states with the AAA TourBook guide. From the larger-than-life carvings at Mount Rushmore to the restored Wild West saloons of Deadwood, this region offers a wide range of experiences for every type of traveler. Plan your next trip with the help of AAA's TourBook travel guide, available now on mobile, tablet or desktop.
With the North Central guide, you'll get advice from AAA travel experts about the best things to see and do, where to stay and how to plan the trip of a lifetime. You'll learn insider travel tips and answers to many top questions asked by travelers. This guidebook includes information about the top things to do in Iowa, Minnesota, Nebraska, North Dakota, South Dakota and the city of Minneapolis-St. Paul.
Here's a sampling of what you'll find in the North Central TourBook:
What to see in the Black Hills besides Mount Rushmore
How to follow in the footsteps of Wild Bill Hickok and Calamity Jane in Deadwood, South Dakota
Why the Iowa State Fair is worth a visit
Where to see one of the nation's largest bison herds roaming in South Dakota
Which Minnesota scenic drive is a bucket-list experience
Why there's an exhibit about Kool-Aid in Hastings, Nebraska
How to tour a retired nuclear missile launch facility in North Dakota
Where to ride one of America's last steam trains in South Dakota
What attractions to see inside Mall of America
What are some of the must-dos covered in this guide?
We know no two travelers are alike, so we've included a wide variety of things to do in each TourBook, from state parks and sightseeing tours to amusement parks and museums.
We cover the top attractions in the North Central states, including Mount Rushmore National Monument, Mall of America, Omaha's Henry Doorly Zoo and Aquarium, Custer State Park and the Redlin Art Center. Visit unique roadside attractions like the World's Only Corn Palace in South Dakota, then explore history at the South Dakota State Capitol. Ride the roller coasters at Iowa's Adventureland Park or the waterslides at Minnesota's Valleyfair Amusement Park.
You'll find all these attractions and more in this destination guide, plus ideas for family-friendly things to do and places to stay.
Will this guide help me plan a road trip?
Yes, this digital TourBook includes inspiration for scenic drives in the North Central region. You can also use the high-quality maps to get started planning your own route.
Is national parkland information included?
The North Central tour book includes detailed information and travel tips for popular national public lands like Mount Rushmore National Memorial, Badlands National Park, Theodore Roosevelt National Park and Wind Cave National Park. You'll also find travel information about national historic sites, national monuments and national forests throughout the region.
Explore the North Central AAA TourBook and start planning your next travel adventure today!