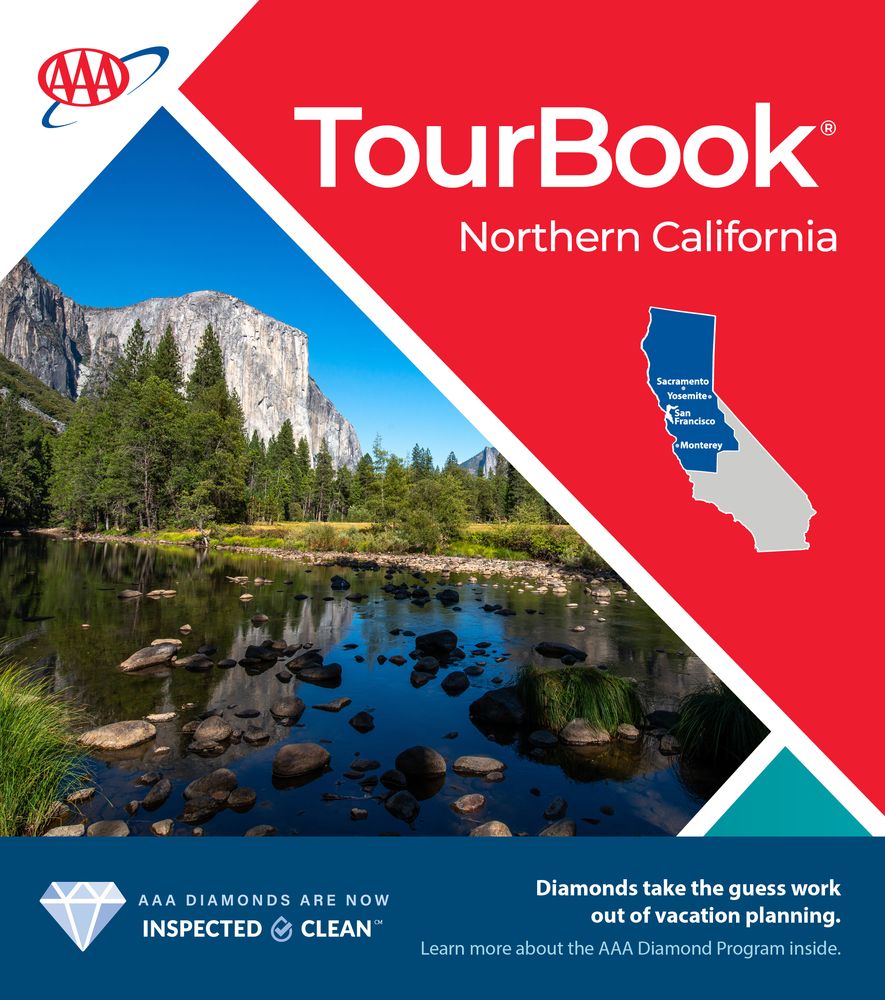 Southwest
Northern California Tourbook Guide
Including San Francisco, Sacramento, San Jose, Monterey, the Lake Tahoe area and wine country
Explore the scenic riches of Northern California with the AAA TourBook guide. From the bustling streets of San Francisco to the towering sequoias of Yosemite National Park, the northern half of California offers a wide range of experiences for every type of traveler. Plan your next trip with the help of AAA's TourBook travel guide, available now on mobile, tablet or desktop.
With the Northern California guide, you'll get advice from AAA travel experts about the best things to see and do, where to stay and how to plan the trip of a lifetime. You'll learn insider travel tips and answers to many top questions asked by travelers. This guidebook includes information about the top things to do in Northern California.
Here's a sampling of what you'll find in the Northern California TourBook:
What to see at Alcatraz Island
How to experience the best of San Francisco in a day
Why the 17-Mile Drive near Pebble Beach is a bucket-list experience
Which museum is dedicated to Charles M. Schulz, creator of the "Peanuts" comic strip
What time of year to watch monarch butterflies migrating through Santa Cruz
Where to ride a sightseeing train and learn about the history of American railroading
How to explore the giant sequoias in Sequoia and Kings Canyon National Parks
Which adventures you shouldn't miss in Yosemite National Park
Where to camp, hike and fish in Northern California's national and state parks
What are some of the must-dos covered in this guide?
We know no two travelers are alike, so we've included a wide variety of things to do in each TourBook, from national parks and iconic landmarks to zoos and museums.
We cover the top attractions in Northern California including Alcatraz Island and the Golden Gate Bridge in San Francisco, the State Capitol and the California State Railroad Museum in Sacramento, Safari West in Santa Rosa, the Monterey Bay Aquarium in Monterey, the 17-Mile Drive near Pebble Beach, and the Winchester Mystery House in San Jose. You'll also find helpful tips for family-friendly things to do in San Francisco and how to navigate around the city.
Will this guide help me plan a road trip?
Yes, this digital TourBook includes inspiration for scenic drives in Northern California. You can also use the high-quality maps to get started planning your own route.
Is national park information included?
The Northern California tour book includes detailed information and travel tips for popular national public lands like Yosemite National Park, Lassen Volcanic National Park, Pinnacles National Park, Redwood National and State Parks, and Sequoia and Kings Canyon National Parks. You'll also find travel information about national historic sites, national monuments and national forests throughout the region.
Explore the Northern California AAA TourBook, and start planning your next travel adventure today!