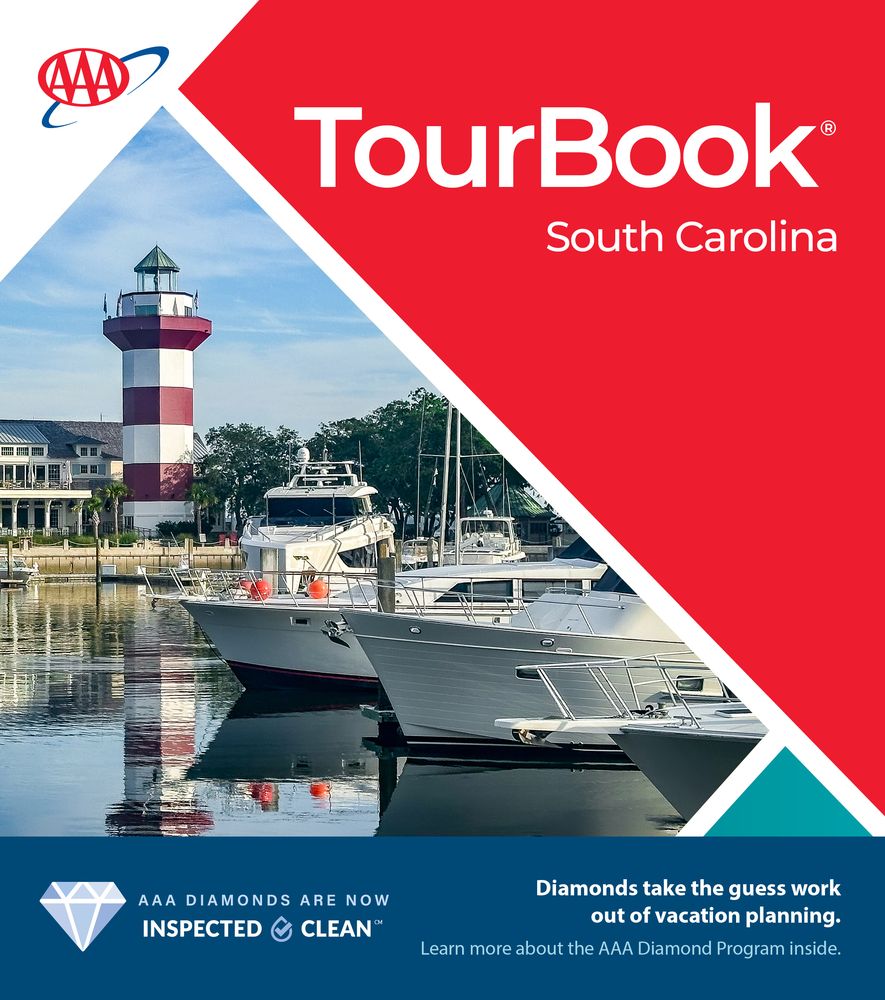 Southeast
South Carolina Tourbook Guide
Including Charleston and the Grand Strand
Get to know South Carolina with the digital AAA TourBook guide. From historic Fort Sumter National Monument in Charleston to mini golf and family fun in Myrtle Beach, the Palmetto State has something for everyone. Travel to a destination of your choosing with the help of AAA's digital TourBook travel guide, available for mobile, tablet or desktop.
With this trip guide, you'll get advice from AAA travel experts about the best things to see and do, where to stay and how to plan the trip of a lifetime. You'll learn insider travel tips and answers to many top questions asked by travelers.
Here's a sampling of things you'll find in the South Carolina guide.
What's Charleston, South Carolina, like?
How Myrtle Beach got its name
Why you should vacation in Hilton Head
Where is Folly Beach in South Carolina?
What are some things to do in Columbia, South Carolina?
Who are the Gullah Geechee people?
Where to stay in the Grand Strand
What is shag dancing?
What are some of the must-dos covered in this guide?
Each TourBook guide features a number of places to go that's suitable for solo travelers as well as family travel with kids. Activities range from outdoor recreation to local museums in South Carolina.
Recreational things to do include hikes at Table Rock and bird-watching at Huntington Beach State Park in Murrells Inlet. Learn shag dancing in North Myrtle Beach, the Grand Strand's northern section. Visit sea life up close at Ripley's Aquarium of Myrtle Beach, and ooh and ahh over penguins in the penguin habitat. Ponder the history and impact of Penn Center Historic District, which taught formerly enslaved African Americans as well as trained later civil rights workers, at the campus and museum on St. Helena Island, a central place in Gullah culture.
You'll find all these attractions and more in this digital destination guide.
Will this guide help me plan a road trip?
Yes, there are South Carolina scenic drives and road trips. You also can use the high-quality maps to get started planning your own route.
Is national park information included?
Yes. The South Carolina TourBook includes details and travel tips for Congaree National Park, a preserve of old-growth hardwoods, and Charles Pinckney National Historic Site, which informs about the signer of the Declaration of Independence as well as the Gullah people. Then continue your education of the Gullah Geechee people on the Gullah Geechee Cultural Heritage Corridor, a 12,000-square-mile area encompassing the Lowcountry as well as other coastal areas and islands of South Carolina, North Carolina, Georgia and Florida.
Military buffs may want to visit Cowpens National Battlefield, Ninety Six National Historic Site, and Fort Sumter and Fort Moultrie National Historical Parks. Kings Mountain National Military Park is the southern terminus of the 220-mile Overmountain Victory National Historic Trail, a 330-mile route traveled by Patriot militia from Abingdon, Virginia, during the Revolutionary War's Kings Mountain Campaign of 1780.