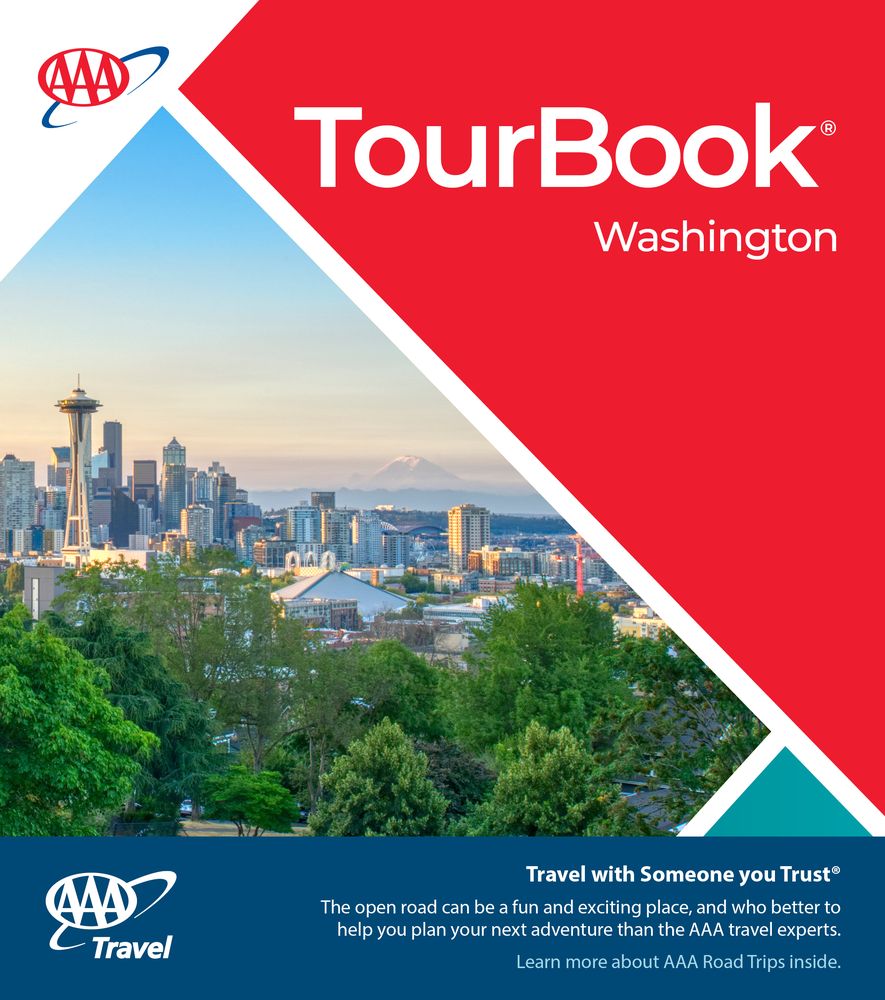 NORTHWEST
Washington Tourbook Guide
Including Seattle, Olympic National Park and the San Juan Islands
Explore the dramatic scenery of Washington state with the AAA TourBook guide. From the snowcapped mountains of the Cascade Range to the rainforests of Olympic National Park, the state of Washington offers a wide range of experiences for every type of traveler. Plan your next trip with the help of AAA's TourBook travel guide, available now on mobile, tablet or desktop.
With the Washington guide, you'll get advice from AAA travel experts about the best things to see and do, where to stay and how to plan the trip of a lifetime. You'll learn insider travel tips and answers to many top questions asked by travelers. This guidebook includes information about the top things to do in Seattle and other places in Washington.
Here's a sampling of what you'll find in the Washington TourBook:
Where to see flower displays during the Skagit Valley Tulip Festival
Why "Twilight" fans will want to visit the city of Forks
How to follow the Historic Columbia River Highway by car or bike
Why Lake Chelan is one of the most scenic spots in the Pacific Northwest
Where to spot free-roaming caribou, elk and bison in a wildlife park
What to experience in Seattle's Pike Place Market
Which sightseeing tours you shouldn't miss on the Puget Sound
How to tour the Boeing Everett assembly plant, one of the world's largest buildings
Where to camp, hike and fish in state parks and national forests
What are some of the must-dos covered in this guide?
We know no two travelers are alike, so we've included a wide variety of things to do in each TourBook, from state parks and botanical gardens to landmarks and museums.
We cover the top attractions in Seattle including the Space Needle, Pike Place Market, The Museum of Flight, Chihuly Garden and Glass and MoPOP (Museum of Pop Culture), plus attractions in Tacoma, Spokane and other things to do in Washington state.
For adventurers, the guide includes listings for popular outdoor attractions like Snoqualmie Falls in Snoqualmie, Hurricane Ridge in Olympic National Park, Point Defiance Park in Tacoma and Mount Rainier National Park.
You'll find all these attractions and more in this destination guide, plus ideas for family-friendly things to do and places to stay.
Will this guide help me plan a road trip?
Yes, this digital TourBook includes inspiration for scenic drives in Washington state. You can also use the high-quality maps to get started planning your own route.
Is national park information included?
The Washington tour book includes detailed information and travel tips for popular national public lands like Olympic National Park, Mount Rainier National Park and Mount St. Helens National Volcanic Monument. You'll also find travel information for national historic sites, national monuments and national forests throughout the region.
Explore the Washington AAA TourBook and start planning your next travel adventure today!